Your child deserves the best
We keep our class sizes small and provide excellent Science, Technology, Engineering, Math, and the Arts education in a Christ-centered environment to help your student be better prepared for their future.
Our Jr. Kindergarten – 8th Grade Students are on campus, in the classrooms, on a full time schedule. 
Registration for the 2023/2024 school year has begun and classes are filling up quickly.
Contact us today at (714) 899-1600 for a tour.
Learning that Lasts
At Grace Lutheran School, our credentialed teachers are committed to a quality standard of learning and achievement in all aspects of school life. We place a strong emphasis on scholastic excellence in a Christian atmosphere that encourages personal and social growth. Small class sizes ensure teachers are able to provide the individual attention children need and helps to ensure each reach their full potential.
I'm interested. What do I do?
1. Schedule a Tour
Contact our Admissions office to schedule a tour on a day that works for you. We'll roll out the red carpet for you and your family!
2. Experience Our Classes
On the tour, we'll take you around our whole campus to see all the incredible extra-curriculars we offer, as well as let you observe a couple classrooms where your child will be. You'll get to see what a difference small classes and a Christ-centered environment can make for your child!
3. Become a Part of Our Family
Our Admissions office is always taking in new student registrations, so make sure to get your name on the list so that you can begin your journey as part of the Grace Family!
"Loving, supportive teachers & staff. I love that my child can experience music, art, Spanish, beginning band, S.T.E.M. curriculum, sports, and much more in a Christian atmosphere."
- Denice B.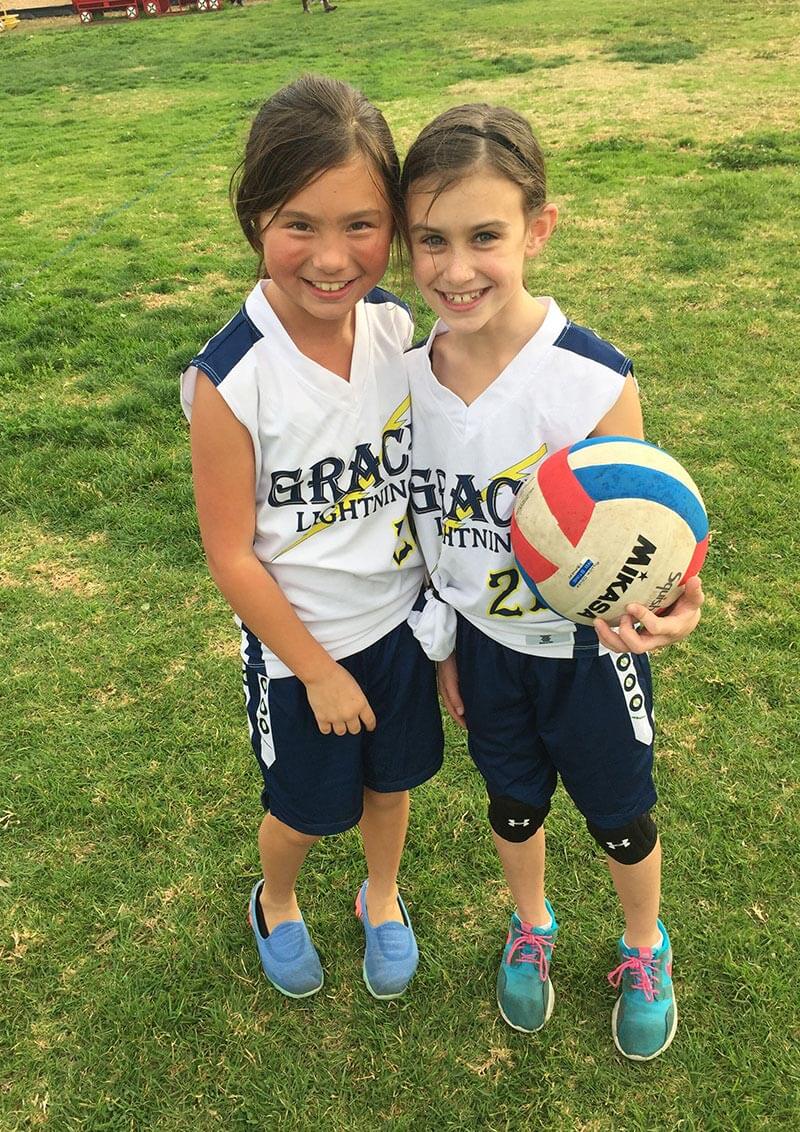 Our Promises
Small classes with fewer than 24 students

Strong core academics, including STEM and the Arts

Weekly Chapel and Bible curriculum, helping students and staff continue to grow to be Christ-followers, Bridge Builders, and Ambassadors for Jesus.

Extra-curriculars for every student, including art, music, sports, and student government.

Friendly staff and accessible teachers

We're here to partner with your WHOLE family
"My children started attending Grace Preschool as toddlers. Because of the loving and Christian-based environment, I enrolled them in the K-8 school and they both loved it and thrived. When my oldest graduated and started public high school, I was a little worried. However, his transition was smooth and he was prepared academically. If you are looking for a Christian-based environment with great teachers and caring professional administration where your children will thrive, Grace is the place!"
- Deanna D.